How renovation of your dairy housing equipment gives more production and job satisfaction
An investment in a comfortable, safe and clean living environment for your cows always pays for itself. In both animal wellbeing and production. A well thought-out renovation of your barn will not only increase cow comfort, but also reduce your labour.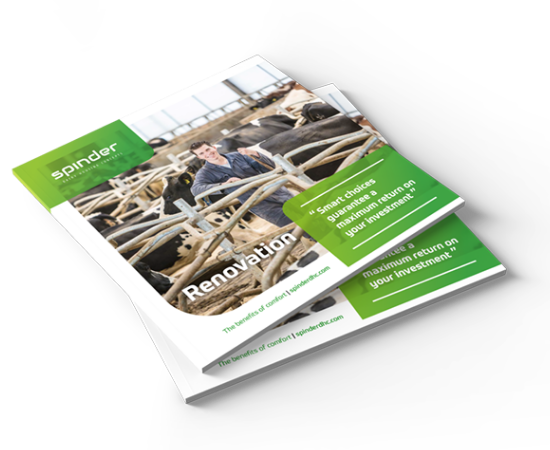 Maximal return on investment through renovation
The choices you make during renovation depend on the condition of your existing dairy housing equipment and your budget. There is no need to replace all the equipment immediately. You can choose to replace only outdated or broken parts in your plan. Smart choices guarantee a maximum return on your investment: more production, less costs and more job satisfaction.
In short, a healthy cow and a happy farmer!





With the Spinder Renovation E-book you will discover:
how to make optimum use of the space in the barn with simple interventions;
when purchasing waterbeds, you can reuse the existing cubicles;
the importance of clean, fresh and sufficient drinking water and the Spinder solution;
how to create a better routing in the barn.

Yes, I would like to receive the free Renovation E-book!